Technology and history of VEKA
Veka AG windows manufacturer
is a company that has its origin in 1969 in Sendenhorst in Westphalia, where the 8-person team company manufactures blinds and window profiles. Since then the company has transformed itself into a world leader in the production of PVC window systems. It has its headquarters not only in almost every country in Europe, but also all around the world and is constantly expanding range of business activity.
For 20 years the VEKA as the manufacturer of windows exists also in Poland and constantly developing production technology. Its products places the highest demands. Used for the production of profiles blend with a unique composition created in the computer-controlled blending. Production process is accompanied by stringent tests, including profiles resistance to shrinkage caused by temperature change and durability corners.
VEKA Poland Sp. o.o., the first in the window industry, received the 1998 Certificate DIN EN ISO 9001, and in 2000 Certified DIN EN ISO 9001: 2000. They guarantee a constant quality of all production processes and management and support the well-established place VEKA Poland Sp. o.o. at the forefront of the Polish market.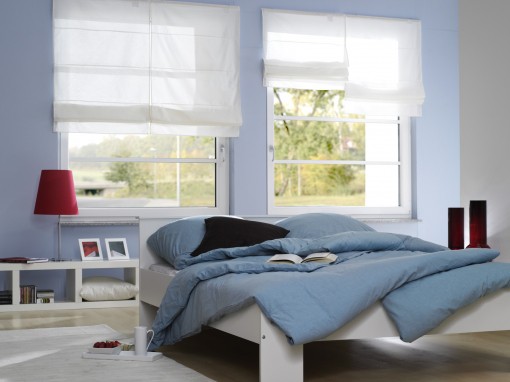 RAL Class A * – basic feature of good profiles.
Veka offers only systems of profiles in class A with a thickness of 3 mm of in the window profiles offer. This is a key factor for the optimum protection of households against cold and noise while ensuring the best stability and durability. Profiles with thinner walls which fall to the lower classes B and C do not already have such a high resistance to damage and are about 10 to 20% more prone to cracking corners.
Global brand with many years of experience evidenced by excellent reputation at the market. VEKA corporation exists on the European market for 40 years. The factory in Poland produces window profiles for 20 years, employs over 400 people and continues to grow creating new workplaces.
Fully certified by independent state institutions and notified Polish and foreign research institutes. Professional assessment of profiles quality are dealt for years by institutions specialized in technology and construction chemicals. VEKA Poland has all possible to obtain certifications and approvals, because safety of our users is the most important to us!
Criteria that are important when choosing a window profiles: 02 VEKA * Class A – according to PN-EN 12608 thickness of the outer wall of the profile is 3 mm (tolerance 0.2 mm) ** excluding profiles for business / eocnomic windows (unheated rooms or with the internal temperature < 8 ° C); compatible with the Regulation of the Minister of Infrastructure (Journal of Laws,13.08.2013, pos. 926)
The class of window profiles compliant with the PN-EN 12608. Only window profiles of A* grade meet the high quality requirements. As the only profile system manufacturer in Poland, VEKA produces only Class A** profiles. Since there is no way to verify the quality of profiles in the finished window, only VEKA customers are assured they purchased windows profiles of A class.
RAL mark which is awarded by the Association for the Quality of Window Systems from Plastic. This means that the characteristics of produced profiles are identical to those that determine RAL standards for each class.
VEKA profile windows guarantee that they are made from grade A* profiles. How can we give such a guarantee? Because VEKA Poland is the only manufacturer on the market that produces its products only in class A *!
Certificate of Window Technology Institute in Rosenheim Q-ZERT
Actions of the company as a manufacturer VEKA windows are not limited to designing window systems and profiles, development of production technologies and the development of appropriate management systems. We also took care of the high quality standards related to the profiles what was reflected in the production of the windows and awarded of the European Certificate of Quality Window Technology Institute in Rosenheim Q-ZERT. VEKA is the first windows system provider on the market which received the right to mark the end products (windows and doors) as certified by Window Technology Institute in Rosenheim Q-ZERT Institute for Window Technology in Rosenheim e.V Obtaining the certificate is associated with passing the system of certification of QM 320 multi-path, which consists of meeting the extremely high demands and a series of standards with the implementation of specific quality control systems.
Among system providers only VEKA Poland requires from manufacturers of windows as a part of agreementwith them – the following actions:
execution at least once a year research of produced window joinery
using to produce windows only such components (gain, gaskets, fittings, glass), which – like profiles VEKA – are documented by the manufacturers parameters: – the fitting properties certified by reaserch of Window Technology in Rosenheim QM 328 – gaskets properties compatible with the requirements of European standards EN 12361-1, PN-EN 12207 and the principles of Window Technology Institute in Rosenheim concerning the glazing.
Our PVC profiles are safe for human health.
VEKA profiles are produced from resistant to impact and hardened polyvinyl chloride (PVC). This material belongs to the oldest and most known and examined type of plastics. It consists of many of the raw PVC and additives which include mainly:
? Titanium dioxide – an excellent, extremely durable, white pigment.
? Chalk or calcium carbonate – material enhancing the rigidity and heat resistance.
? Stabilizers that are used to prevent thermal damage to the PVC during processing in factory and use as well as damage in a result of weather influences, in particular UV radiation. These additives are critical to ensure adequate strength profiles against aging. Stabilizers are nothing but metal salts. These are well examined and tested for 40 years lead and tin salts and the newly tested, observed and used since a few years salts of calcium and zinc.
? Dyes such as soot and other organic substances.
All these ingredients are very firmly bound chemically and have no negative impact on human health. Therefore PVC is irreplaceable in the manufacture of many products that must be reliable. Typical – apart from windows and doors – products made of PVC are water pipes, floor coverings, packaging for tablets, blood bags and infusion hoses, furniture edges, wallpapers.
For the production of VEKA profiles, materials of the highest quality are used. Amomg suppliers of raw PVC and essential additives are only the best and recognized companies operating in the chemical industry. The experiments take place in the professional laboratories. Customer receives the product tested and examined and therefore completely safe.