ALUMINIUM SYSTEM
Aluminum windows and doors in Bydgoszcz
Aluminum windows and doors
, which is a
modern aluminum joinery
is designed to be an answer to the contemporary architectural challenges, thanks to using the diversity of forms and shapes.
Aluminium
is the perfect material needed to meet the incerasing requirements of the market and even the most demanding customers expectations. Our company is engaged in
manufacturing windows and doors with aluminum in Bydgoszcz.
The type and nature of the profiles allow achieving slim and resistant window and door constructions corresponding to individual customer preferences. Aluminum window and door systems are characterized by exceptional durability, lightweight design and maximum areas of the glazing.
External aluminium
Hot aluminium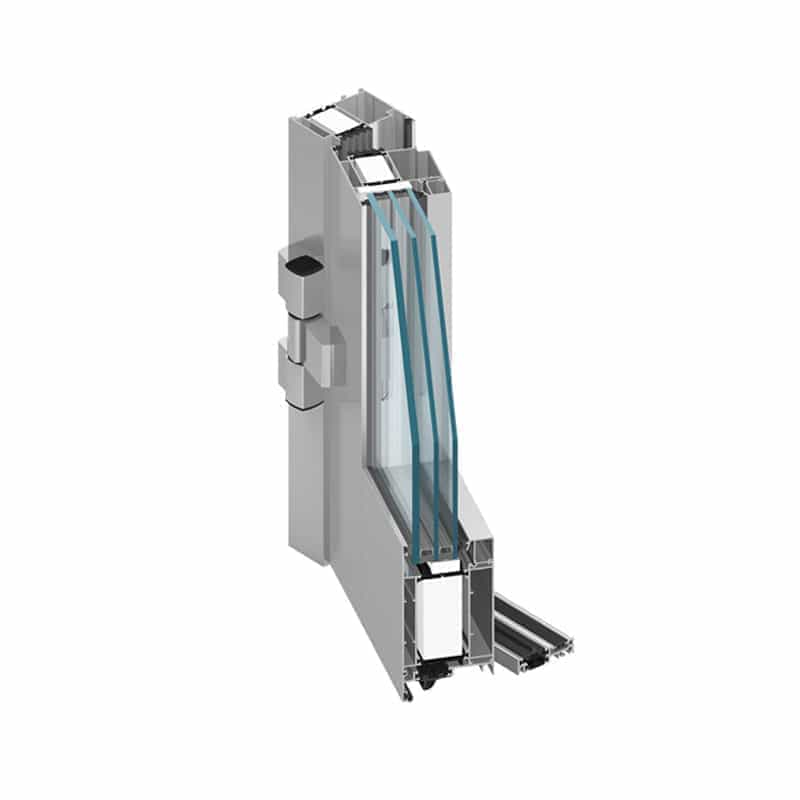 Window and door system MB86
Window and door system with high performance that gives the opportunity to satisfy the diversity of user needs. This world's first system of aluminum windows and doors in which the airgel was used  – a material with excellent thermal insulation. The advantages of the system include also the high strength profiles enabling creating large size and weight constructions. There is also a version of windows with hidden leaf.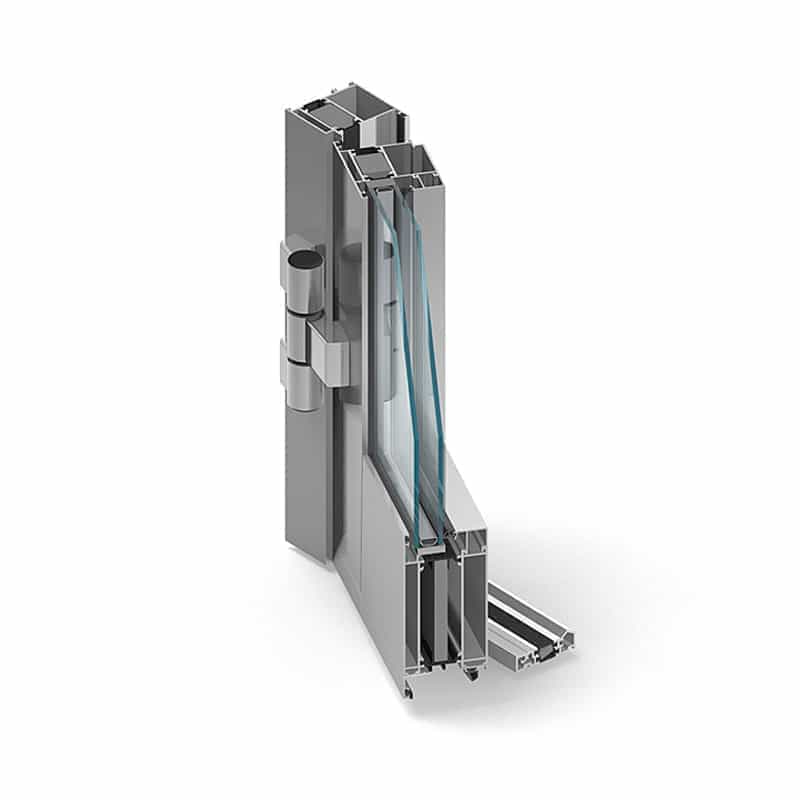 Window and door system MB70
This aluminum system is used to creating very good thermal and acoustic insulation in outside architectural building elements, such as various types of windows, doors, vestibules, spatial structures. It has a version with enhanced thermal insulation, obtained through the use of special refills inside the insulating sections and the are under the glass. In the MB-70 system it is possible to make anti-burglar aluminum windows and doors and smoke-resisting windows.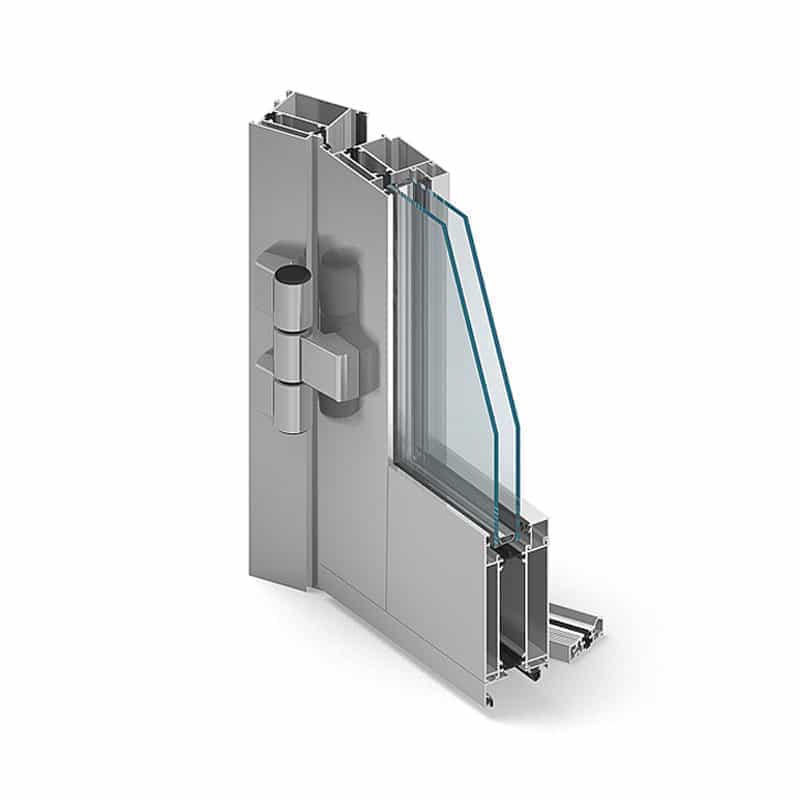 Window and door system MB60
This modern aluminum system is installed mainly in situations requiring thermal and acoustic insulation in exterior architectural elements. An example of this type of application can be eg. windows and entrance doors, vestibules, site windows, as well as various kind of spatial structures.
Internal aluminium
Hot aluminium
Window and door system MB45
This system is mainly used inside the building. An example would be a partition walls, windows and sliding, swinging and automatic doors. Other popular uses for of this system are: vestibules, site windows, boxes, partitions or smoke-resistant doors. Using the window and door system MB45 is possible in all situations which do not require thermal insulation profile.
Aluminum facades
Facade system
The system has been designed for constructing and creating the light curtain walls of hanging and filling type as well as roofs, skylights and other spatial structures. Windows supported by this system are also the basis for the version with enhanced thermal insulation and fire protection solutions. It is also associated with structures of various types of windows: top-hung casement opening outwards, roof windows and windows integrated with the facade. Thanks to the wide range of solutions based on the facade MB-SR50N architects and designers can accomplish even the most original ideas in the field of aluminum-glass structures.
Aluminium systems in Stolmar projects
Golden era of aluminum windows and doors
When we consider what door to choose, we often ask ourselves the question: Whether is it worth to choose windows made of aluminum? We do this not by accident, because aluminum is very durable material that is lightweight and will not rust easily. In addition, windows with large glass surfaces with aluminum border are very popular too. What are benefits od using aluminum in both cases?
China, Russia, Canada and the United States are the largest manufacturers of aluminum windows. The undisputed leader here is China, which annually provide approximately 30% of the raw material for the market. Aluminium entered also for good into our homes as a material increasingly willing to use in the production of windows and doors. Aluminium ends being associated with a symbol of a minion era, when the Poles had access to it only through foreign cans or dishes in the milk bars. Today no one thinks in this wayabout the windows and doors made of aluminum, and it is used for much larger projects than the production ofdishes or cans.
Golden Era of aluminum
In 1825 Dane Oersted discovers the aluminum element. However, only in the next century aluminum become fashionable thanks to produced dishes and cans from it. In contrast, as the material for the production of windows and doors, aluminum will be used on a wider scale at the turn of the XX and XXI century. Then the manufacturers of windows and doors will see the potential in aluminum and will start to invest in this way to produce windows and doors. Demand for aluminum joinery will rise.
Ecological solution
Nowadays, when we all try to live ecologically due to ongoing global warming, aluminum joinery triumphs. No wonder, since the aluminum joinery is an exceptionally environmentally friendly way to create a different part of the home furnishing – from windows, through the door, and finally aluminum illuminated cabinets. All products made of aluminum in 100% are suitable to processing and can be safely recycled. That is why they are so highly recommended not only to people who want to care for our planet, but for all for whom the future of Earth is not totally neutral.
Energy efficiency
This is another advantage of aluminum joinery. Thanks to the use of aluminum and thermal separators we can obtain high performance thermal insulation, which in practice means that with aluminum doors or windows weather condition outside will not have an impact on us. We do not need to worry about wind blowing or snowing because the windows and doors made of aluminum separates us from these dangerous weather phenomena. What's more, they keep us warm in the middle of our house or apartment. With this function we can also save a lot on heating, which we will not have to tweak, because the apartment will prevail optimum temperature. Throwing into oven will also not be necessary,because the heat does not escape through the windows or doors.
Aluminum doors – a specialty of the company Stolmar
Poles are more and more willing to choose this type of door. Not surprisingly, the material used in their production is sure that the door will not be so easily broken. Why? Firstly, aluminum in the contrast to other metals do not corrode and therefore does not rust. Moreover, constructions are very durable because they do not become damaged by moisture or UV radiation. In addition, the doors which are made of aluminum does not deform making this additional advantage. This knowledge also have specialists from the Stolmar company who gladly meet your expectations. Aluminium doors from Bydgoszcz as a key phrase, which will lead us straight to a page where we can see the door prepared by professionals from STOLMAR. In the offer we will also find different types of doors. By clicking on the link: sliding doors bydgoszcz , you will see a page dedicated to the sliding window systems where ypu can view the various projects of this type of doors as the Stolmar implementation.
Aluminium windows direct from Stolmar
Large glazing areas we inevitably associate with easy heat loss and feeling the negative effects of the weather: wind, rain or snow. On the other hand, a large window, with, for example, view of the forest or a beautiful garden with roses is the dream of many people who sadly gives up its for, as they think, practical reasons . " Because what is benefit from a wonderful view when the windows let in water and the wind ". We now want to disprove this stereotype.
Large areas of glazing may be much more comfortable than these small windows. Everything depends on how we use the material when it is created. Professionals in Stolmar rely on windows that due to using aluminum and guarantee the windows provide insulation on the outside and the water resistance as well as protection against the wind. This type of windows, as indeed  as any other, we can cover. For this purpose will prove themselves the roller shutters in Bydgoszcz.