HANDLES FOR WINDOWS
Our products for windows
High-quality door handles from the HOPPE company. Their attractive look comes from combination of ideal design and precise realization with attention to the smallest details. High quality materials used in the production process and excellent ergonomics which complemented functionality of the product make it very reliable. The long term use of handles and a large selection of color possibilities are also significant aspects.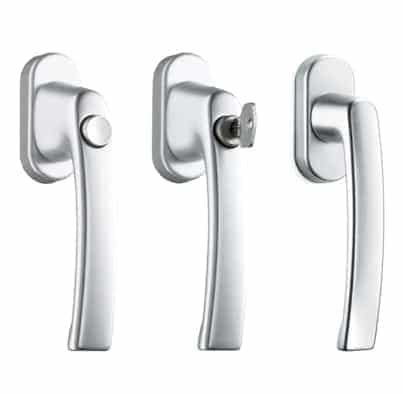 Handle which is an element of direct contact between human and the window is often overlooked.
We believe that this is a very important element affecting the functionality, safety and ergonomics of window. That is why each of our window are standard equipped with a Hoppe Secustik handle .
Handles with Secustik function is a patented product  ofGerman manufacturer of window and door handles – the Hoppe company. These handles are equipped with a mechanism for locking the rotation of the handle. It protects the window from intrusion when burglar attempts to shift the orbital  fitting  by theobject inserted from the outside which is put between leaf and the window frame. A characteristic feature of these handles is also a specific sound which Secustik mechanism make during the handle rotation.
For our customers we offer Secustik aluminum door handles in several models and colors.
We offer high quality window handles of renowned European manufacturers. In our shop you can find aluminum handles for various use available in many models and colors.
In addition to basic door handles designed for standard tlit and slide windows, door handles with push button, certified handles with key for anti-burglar windows, two-sided handles for balcony doors, handles for sliding doors, special handles under the roller shutter and other products for the opening and closing the windows such as balcony locks.
Full information abut the range of standard door handles and door handles on request we provide by phone or e-mail (contact).
The movie of HOPPE manufacturer
Secustik? – window handle with a safety margin sound